Loire, Rhône-Alpes Region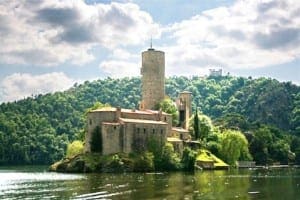 River deep, mountain high, country life – wine and culinary traditions
Rhône-Alpes is located in the east of France. The home of Evian water, as well as distinguished vineyards such as Côtes-du-Rhône and Beaujolais. To the north are the French regions of Bourgogne (Burgundy) and Franche-Comté, to the west it borders the region Auvergne, to the south it borders Languedoc-Roussillon and Provence-Alpes-Côte d'Azur.
Rhône-Alpes is a region of vinous valleys, mighty peaks and scenic drives with Honey-coloured châteaux spread over rolling farmland and forest. Vieux Lyon, is the most romantic and oldest part of town, with its narrow streets and historic buildings.
Lyon is the undisputed Gallic Capital of gastronomy due to its rich culinary traditions. Home of the iconic chef Paul Bocuse, Lyonnaise food is a way of life and the essence of this beautiful city. Culturally speaking hosting our French Immersion Program in this region was designed to inspire you to make your own discoveries of the region local produce such as Savoie Cheeses and delicious charcuterie.
Bon Appetit !