Lapont French Immersion Tours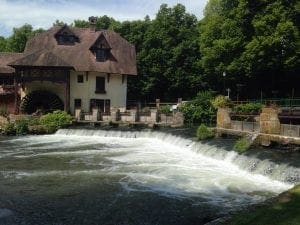 French Immersion Overview
Register Interest
Itinerary
Price
Testimonials
Photos
10 Day French Immersion in Burgundy
Language, Culture, Gastronomy    
Saône-et-Loire,Burgundy
Comté-Rhône-Alpes, Lyon
May 25-June 3, 2019         FULL  (wait list)
Sept 21-30, 2019               Limited places
The Lapont French Immersion experience extends beyond the Classroom!
Proudly hosted by: Catherine Alapont and team of seasoned experts..
Speak, live and even dream in the French language and culture from morning to night in a very unique immersive environment  that constantly reinforces your language skills.  
We offer Residential Courses for adults only: French classes are held on-site at the Chateau-Ecole in small groups, with a personalized approach and focus on communication.
Learn French in France absorb the Culture, Language and Gastronomy of La France Profonde between French language lessons, cooking classes, private cultural tours and interaction with the locals..
Our teachers have extensive international expertise and savoir-faire; they participate in all cultural activities, meals and outings and are on hand all day long for French Practice.
Your home is at a 17th Century Château Country residence, located in an exceptional area 2.5 Hours from Paris, between Lyon and Geneva, among three regions of France: Burgundy, France-Comté and Rhône-Alpes.
Stay at the Château-Domaine in total immersion… The hallmark of the Château is conviviality and warm French hospitality. The charming rustic country residence is nestled among ten hectares of wooded-park lands. Its natural and peaceful surroundings provide the perfect retreat setting for your French Immersion vacation.
Facilities include spacious French living-rooms, rustic libraries and intimate spaces for relaxation. The French course is optional for accompanying guests. Bicycles are available on-site, music room and entertainment.
The rooms are spacious and elegant with en-suite; In the provincial kitchen, regional cuisine is prepared daily by our in-house chef, with local fresh produce;  a fine-mix of delicious home-cooking paired with local wines.
Our VIP French Immersion Program has attracted international guests from all over the world, who share the same passion and enthusiasm for learning and discovering the French Language and Culture. No packing and unpacking..and no harried schedules…
Make your French Immersion adventure in Burgundy, the highlight of your next trip to France. You will enjoy tasting regional gastronomy and wines at selected Michelin Starred Restaurants…in great company…
Each day of our signature Itinerary is built around private cultural tours by seasoned experts, who know the area intimately. We visit the hidden gems of Burgundy, Franche-Comté and Rhône-Alpes surrounding regions: Private Châteaux, cheese farms, artisans markets and small producers wineries.
Some lovely international guests are joining us in 2019 from the UK, USA, South Africa, Japan, China and Australia; the perfect opportunity to make new friends, from all over the world…Register your interest don't wait places are extremely limited.
Our French team cannot wait to welcome you at the Château in Saint-Amour.
LIMITED TO 10 GUESTS ONLY           skype facebook:lapontlanguages
Why do an Immersion course in France?
Do you speak a little French but want to learn how to speak with a real French accent and increase your knowledge of both the language and France whilst having a brilliant time? Or perhaps you're a beginner and you would love to start your journey of learning French in a fun and authentic atmosphere.
A French immersion course is all about learning the language but it is also about getting to experience the culture, gastronomy, the wonderful sites and scenery that make learning so much more fun, interesting and memorable.
Finding the best immersion courses in France
There's lots of choice but we love Lapont's French language immersion courses in France for lots of reasons.
Great teachers: French teachers with international expertise and savoir-faire. The teachers are on hand all day along from morning to evening, so you can practice your French during all outings, meals and cultural activities
Small classes: With just 3-4 people in a class, you get real one to one teaching, loads of time to ask questions, practice and learn in a relaxed environment with a focus on communication.
Wow factor accommodation: Based in Burgundy, staying in a 17th century chateau with rustic libraries just perfect for study and chilling out. The ensuite bedrooms are stunning and spacious, the hospitality is warm and welcoming. Located in Burgundy in an area where exploring quaint villages is a joy, bikes are available from the chateau too. In-house chefs cook delicious dishes made with regional, seasonal produce to your liking and of course paired with local wines – when in France! The hosts are wonderful and much loved by the guests, who keep returning to the Chateau…

Learning in the real world: You'll visit local sites such as private chateaux and vineyards. There are daily activities and cultural tours with experts; you'll go to cheese farms, markets and meet local wine producers and sample their produce. You'll dine at fabulous Michelin starred restaurants – what better way to practice the language you're learning: "you'll be saying formidable" like a local in no time and even use the word "incontournable" to describe the Lapont French Immersion experience!
Paris is an option: Add an extension to your trip and head to Paris for a 5 star stay where you queue nowhere as it's star treatment all the way from visits to museums and cultural attractions to your quaint boutique hotel and fine dining experiences.
A holiday that can change your life
You'll live and breathe in French for your week at Lapont's terrific French immersion course. It's a small group tour only with international guests who all have one thing in common – a passion for France and for learning and discovery. Catherine Alapont, a native French speaker and renowned linguist, has been organising French Immersion Holidays for many years and really understands how to ensure that guests have the best time whilst learning. You won't just go home speaking French better than you ever thought possible, you'll make new friends and have the holiday of a life time.
See here for details of Lapont's French Immersion course in France: lapont.com
PLACES ARE EXTREMELY LIMITED     BOOK EARLY   
Availability is limited and can only be confirmed at the time of receiving your booking.