LaPont French Immersion Tours
LaPont French Immersion Tours
10 Day French Immersion in Burgundy
Language, Culture, Gastronomy    
Saône-et-Loire,Burgundy
Comté-Rhône-Alpes, Lyon
Secure your place
Upcoming 2021 Immersion Programs
May 29 – June 7            Limited 
June 12- June 21          Sold out
Just released Autumn 2021 Dates…
Aug 28- Sept 6    *   availability
Sept 11- 20             Wait listed
Sept 25- Oct 4    *  availability
 * Bookings Available. Limited places
Profoundly French…
Recently awarded 3 Clés France's Haute-Standard Label
The Lapont French Immersion experience extends beyond the Classroom …speak …live and even dream in the French language and culture from morning to night in a unique immersive environment.
Your home is at a 17th Century Château Country residence, located in an exceptional area 2.5 Hours from Paris, between Lyon and Geneva, nestled among three regions of France: Burgundy, France-Comté and Rhône-Alpes.
Burgundy is calm, cultivated, serene; where nature is as sophisticated as the people….If you're looking for quintessential French culture, you'll find it in Burgundy.
Keep your French up to date…
We offer Residential French Immersion Courses: French classes are held on-site at the Château in small groups, with a personalised approach and a focus on communication. Our friendly French teachers participate in all cultural activities, meals and outings all day long.
Learn French in France absorb the Culture, Language and Gastronomy of France between French Lessons, Cooking Classes, private cultural tours and interaction with the locals..
Stay at the Château Domaine in total immersion…
The charming rustic country residence is surrounded by ten hectares of wooded-park lands. Its natural and peaceful environment provide the perfect retreat setting for your French Immersion vacation.
Facilities include spacious French living-rooms, rustic libraries and intimate spaces for relaxation. The French course is optional for accompanying guests. Bicycles are available on-site.
The rooms are spacious and elegant with en-suite; meals are prepared daily by our in-house chef, with local fresh produce; a fine-mix of delicious home-cooking paired with local wines.
Since 2007, Our VIP French Immersion Program has hosted international guests from all over the world, who share the same passion and enthusiasm for learning and discovering the French Language and Culture.
Make your Immersion in Burgundy adventure…the highlight of your next trip to France
You will enjoy learning French, tasting regional gastronomy and wines in great company…with no packing and unpacking..and no harried schedule..
Each day of our signature Itinerary is build around private cultural tours lead by seasoned experts, who know the area intimately. We visit the hidden gems of Burgundy and surrounding regions: Châteaux, private tours, artisans markets and regional wineries
Some lovely international guests are joining us in 2021, the perfect opportunity to make new friends, from all over the world…
Register your interest don't wait places are likely to sell out soon…
Our French team cannot wait to welcome you at the Château in Saint-Amour.
LIMITED TO 10 GUESTS ONLY                             email: info@lapont.com
Why do an Immersion course in France?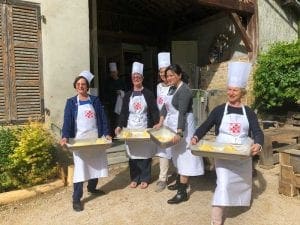 if you want to learn French, to speak it like a local and understand it fully, the best way to study is undoubtedly by immersion. It's also great fun and when you're able to fully immerse yourself in the culture and essence of France at the same time – it really does help make learning easier.
The best French Language Immersion course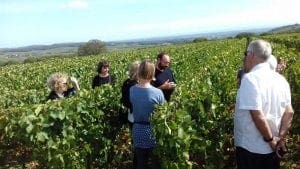 For most of us, learning from classes, books and online works well. But for all us, to really appreciate and understand the nuances of real French, the best way is to learn is by experience.
By getting to know and chat to the locals, enjoying the legendary French cuisine and wines and experiencing the traditions and customs of France – well, nothing beats a fabulous immersion course to make learning so much more fun.
There's a lot of choice but we love LaPont's French Immersion Program for many reasons including the great teachers and small classes. The teachers are friendly, highly experienced with international expertise and savoir-faire. They're on hand all day from morning to evening to assist you with you French during all outings meals and cultural activities. And, with just 3-4 students in a class, you get real one to one teaching and loads of opportunities to engage in conversational French with confidence.
Lapont French 10 day Immersion tours in Burgundy are hosted by Catherine Alapont, an acclaimed multi-linguist. She is a native French speaker and has a passion for the language as well as French culture. She's a charming hostess and makes guests feel like friends with whom she shares her local knowledge and understanding of France. With this immersion course you'll not only learn French, you'll get the tour of a lifetime.
What this immersion course in Burgundy involves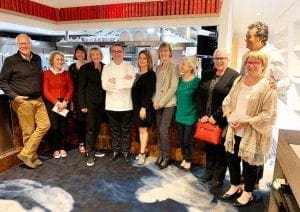 You'll meet in lovely Lyon in the south of France before being transported to your new home – a 17th century chateau where your French Immersion adventure takes place. Whatever your skills, whether you're a complete beginner, want to practice speaking French or need to brush up on your grammar, you'll find there's a class that's just right for you. The teachers are friendly, highly experienced and fully qualified.
The tour groups are kept small, a maximum of ten in the group, so that there's time for you to see and do what you want and really get to know "La France Profonde". Small class sizes, just 3-4 students per class, mean the teacher has time for you, making sure your French comes on leaps and bounds. Your fellow guests are as passionate about France, and as enthusiastic about learning, as you. At the end of this immersion course, your French will have improved and so will your knowledge of France because you won't be staying in a classroom all day. You'll be exploring the hidden gems of Burgundy, Franche-Comté and the Rhône-Alpes. Included in the tour are visits to private châteaux, a Chocolaterie, artisans' markets and vineyards and a whole lot more.
Luxurious accommodation and immersion
This is the perfect location to inspire you to learn in the mornings whilst loving your luxury French stay.
Your home during this time is in a beautiful chateau in Burgundy. The rooms are spacious and elegant, the hospitality is warm and welcoming and the Chateau is exclusively reserved for LaPont French Immersion VIP guests. There's a private park and bikes for guests to cycle to the nearby picturesque medieval villages and even onsite French cinema. And the in-house chef will prepare the most delicious dishes with local fresh produce and select superb local wines
The French course at the Chateau-Ecole is optional, daily a la carte cultural activities are available and accompanying partners are welcomed.
Learning in the Real World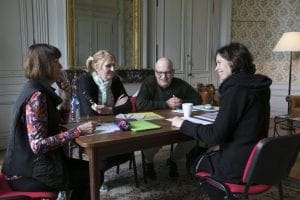 The tour involves complete immersion in French in the chateau classrooms and on days out with local experts. You'll get to enjoy gourmet cooking lessons and dine with local French hosts who will practice the language with you. There are escorted trips to the best local sites including Catherine's off the beaten track favorites that most visitors never discover. Chateaux, cheese, wine tasting, gourmet meals and gastronomic restaurants (including a Michelin starred legend), walks in beautiful natural surroundings and exquisite street markets. You're guaranteed to feel like a VIP.
Your immersion course ends in Lyon, AKA the gastronomic capital of France, just two hours by train from Paris. Lyon has an incredibly beautiful medieval district and a warren of cobbled streets waiting to be explored with your personal guide. Dinner is booked at a legendary restaurant and you'll enjoy a complimentary night at a boutique hotel in the centre of the old town.
There's an option for a 3-day extension in Lyon which includes a full day trip to Annecy (French-Alpes) The Beaujolais Region and a foodie private tour in Lyon ending with a visit & lunch at the famous Paul Bocuse Market.
The language of France reflects its long past, its love affair with gastronomy, its diverse landscape and its history. This immersion course enables you to really absorb all these intangible aspects and get to know France at its very best and most personal. You will have a unique insight to fascinating France, the French people, the fabulous cuisine and delicious wines, the culture and history.
Places are extremely limited so register your interest for our forthcoming 2021 French Immersion Tours now at Lapont.com and start a love affair with France